Titan

---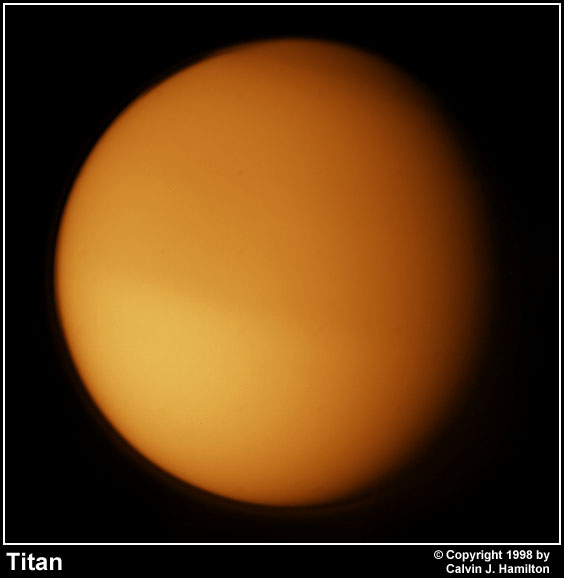 Saturn's biggest satellite, 2nd biggest in solar system (behind Ganymede).

Most amazingly, Titan has an atmosphere. A big one. Surface pressure is 1.5 atmospheres!


From Earth, methane was detected spectroscopically. When Voyager 1 flew by, this methane was confirmed, but it was realized that nitrogen (N2) was the dominant gas in the atmosphere.




---
Titan's atmosphere:
Nitrogen (N2) 82-99%
Methane (CH4) 1-6%
Argon? (Ar) 0-10% (?)
Minor constituents (organic compunds!):

Hydrogen (H2)
Ethane (C2H6)
Propane (C2H8)
Ethalyne (C2H4)
Hydrogen cyanide (HCN)
Carbon monoxide (CO)
Ultraviolet radiation from the Sun interacts with the methane in the atmosphere to produce the ethane, propane, ethalyne, etc - a photochemical smog. (Where else in the solar system do we have a photochemical smog?)
---
Titan's surface:

Cold: 94 degrees Kelvin

Triple point: combination of temperature and pressure under which a substance can exist as liquid, solid, and vapor.

Methane temperature triple point: 90.7K (near Titan's surface temperature)
Methane pressure triple point: 117 millibar (a few km up in Titan's atmosphere)

Methane may act on Titan the way water does on the Earth!

methane clouds almost certainly exist
methane/ethane rain? ("raining frozen gasoline")
methane/ethane snow?
methane/ethane lakes and oceans?





Think about this:

Thick atmosphere
Liquid on surface
Organic compounds

What does this sound like?
The Cassini/Huygens Mission
2004/5: Saturn orbiter/Titan lander, provided shots of Titan's surface