The Goldilocks Problem

---
Remember the equilibrium temperature of a planet is linked to its distance from the Sun (D):

And remember that the Earth's atmosphere and biosphere is very sensitive to temperature -- a few degrees makes a lot of difference!
So if the Earth was a bit closer or a bit further from the Sun, we might have radically different (inhospitable) conditions.
Too close: oceans boil away, greenhouse effect kicks in. Hot, dry like Venus.
Too far: temperatures drop, rapid glaciation.
The Goldilocks problem: early calculations indicated that the "habitable zone" in the solar system was 0.95 < D < 1.01 AU. Why would this make you uncomfortable?
It gets worse: the sun has been increasing in luminosity over time. Early in the Earth's history (several billion years ago), the Sun had only 70% of its current luminosity. But liquid oceans have existed on Earth for nearly 4 billion years. Why?

The Earth's temperature is regulated both by solar input and by the greenhouse effect. If the solar input has changed over time, the greenhouse effect must have counterbalanced it to very good regularity. How would that happen?
---
The Carbonate-Silicate Cycle
(also known as the Urey Reaction)
Liquid water (rainfall) acts to "wash" CO2 out of the atmosphere in the form of carbonic acid:
CO2 (gas) + H2O (liquid) --> H2CO3 (carbonic acid)

The carbonic acid weathers the rocks on the Earth's surface, releasing ions of calcium (Ca++) and bicarbonate (HCO-3) into the oceans.
These combine into calcium carbonate (CaCO3) on the sea floor either through

formation of carbonate rocks
living organisms making carbonate shells

The calcium carbonate is eventually subducted down into the Earth (via plate tectonics), where high temps and pressures convert it back to CO2 gas.
CO2 gas gets outgassed from volcanos back into the atmosphere.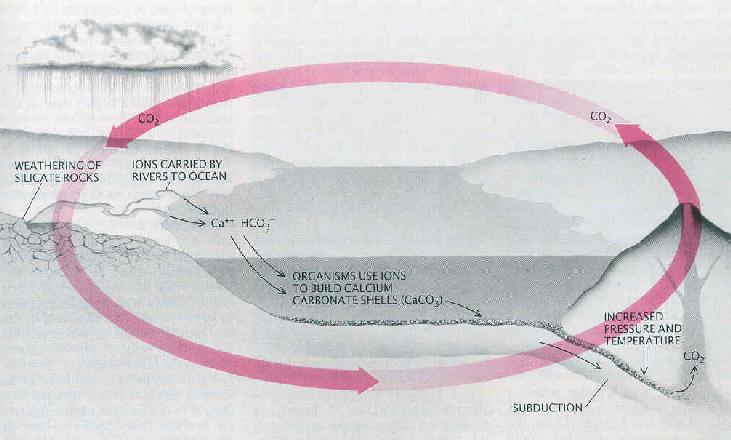 In order to regulate the temperature to such high stability, the carbonate-silicate cycle must be self-regulating. That is, it must act to increase the greenhouse effect if the temperature drops, and it must decrease the greenhouse effect if temperature rises.
Question: How would the cycle change if temperatures rose significantly?
Question: How would the cycle change if temperatures dropped significantly?
---
So let's presume that Venus, Earth, and Mars all started out roughly with roughly similar compositions when they formed. Why did the carbonate-silicate cycle make Earth "just right" while Venus and Mars became so unfriendly?